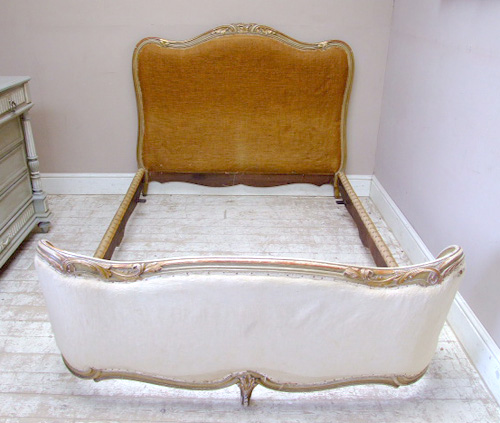 Above shows one of our beds with the original upholstery removed, ready for covering in new fabric.

Covering Styles
You can choose from a simple covering, deep buttoned or floating button effect.
If you want the deep buttoned effect, you will need to keep patterns quite small and avoid stripes. You will need to supply extra fabric so that the patterns can be matched and to allow for the buttoning. There is an additional cost for deep buttoning but the results have impact as shown here with great effect. Floating buttoning is a good alternative effect and costs less to do.
Embroidery and silk are very tempting…

Silk materials are fantastically alluring fabrics. An embroidered pattern or fabric can be a beautiful centrepiece for a bed. But beware of both, as you need to make sure the fabric you have set your heart on is one which is suitable for upholstery. If the fabric is not made for the rigors of being stretched to cover a bed, the pattern or stitching may end up with distortions. Like everything else double check with your supplier.
Swatch out!

Choose your fabrics - we recommend asking for swatches of various fabrics to make sure the fabric and colour fits in with your scheme. We can supply Designers Guild or Kate Forman Designs ranges and can source many other brands - it is worth asking if we can match or improve on a price you have been quoted.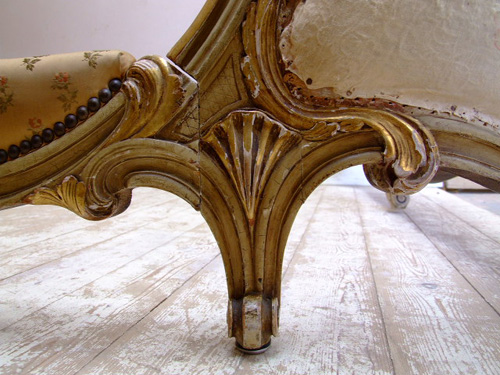 Finish it off with a trim
Last but not least think about the trim you finish with. Like fabrics there are hundreds of colours and options to choose from. The main types are as follows:

Lace/scroll gimp (ribbon) – available in as many colours as you can imagine
Piping – available in single, double or even triple piping. A small pipe is run around the edge with the upholstery fabric covering it to provide a finish that's in keeping with the rest of the piece.
Scroll tacks – imitation metal tacks on a roll similar to antique style individual tacks but much cheaper in cost including labour time of the upholsterer. Come in a variety of colours
Individual tacks – metal tacks which have to be individually pushed into the furniture piece. Come in a variety of metal finishes. Per piece these cost more per metre and for the upholsterer's time - please ask for a quote.
Fringe – Like a gimp but with a fabric fringe dangling from the edge available in many different sizes, lengths and colours.
Tassles - Like a fringe but the fabric is grouped free hanging fan shapes
Onion/ball trim – Very similar to tassles but fabric grouped into a larger ball/onion shape
Beaded trim – like tassles or gimp but with decorative beads!
Standard double piping or studs on strips are included in the price.
You can also see more examples on our Frenchfinds Blog and Flickr pages